Meet the dogs of Orion!  First and foremost, all of our dogs are our pets.  They live in our house, as our companions.  All of our breeding dogs are fully health tested for Hip Dysplasia, and all DNA testable diseases.  Our dogs are also active in many sports.  In addition to our regular training, the dogs also enjoy hiking, swimming and fitness actives.  

Speed, Drive and Sprint are from our foundation stud, Race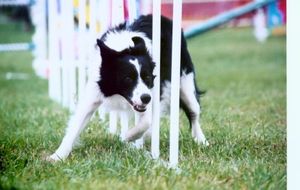 He was a once in a lifetime dog that produced many multi talented kids.  He passed on many of his traits..his temperament, athletic ability, herding ability, and work ethic.